We are excited to launch the Energy Democracy Initiative at Cleveland Owns, a new coordinated effort to promote community stewardship of renewable energy assets and to advocate for a more humane utility system - two essential steps towards a just transition to a clean energy economy. You can learn more about the Energy Democracy Initiative here.

We need energy democracy in Cleveland
The energy system is a major focus of Cleveland Owns' work building community wealth and power because we are living through a global climate crisis that demands urgent action. Our dependency on fossil fuels puts all life on earth at risk. We need rapid adoption of renewable energy to prevent the further worsening of our climate crisis.

And it is essential we transition to a clean energy economy in a way that acknowledges past harms that have disproportionately impacted Black, Inidigenous, and people of color and working class communities. Just as fossil corporations have recklessly extracted natural resources from the earth, so too has our economic system extracted wealth and health from marginalized people.

Many more solar panels will help stop the former. But to address the latter, we need something deeper: We need to transform our energy system through distributed generation of clean, renewable energy, collective stewardship of our energy commons through cooperatives and public utilities, explicit policies to privilege marginalized communities, innovative policies to accelerate community solar, and other proven strategies for expanding local control. Most importantly, we need to follow the leadership of Black, Indigenous, and people of color and working class people, experts on how the current system is failing them. Each of these policies and principles is part of energy democracy.

Collective ownership is a core part of energy democracy
At Cleveland Owns, we see collective ownership as an antidote to the concentrated ownership of power plants that got us in this mess. Ownership confers power and wealth. Collective ownership of solar arrays begins to decentralize our energy system and chip away at unaccountable corporate power. Collective ownership is also a way to address the racial wealth gap. Black and brown families must have equitable access to the prosperity the clean energy grid of the future will create. We believe cooperatives are one way to achieve that.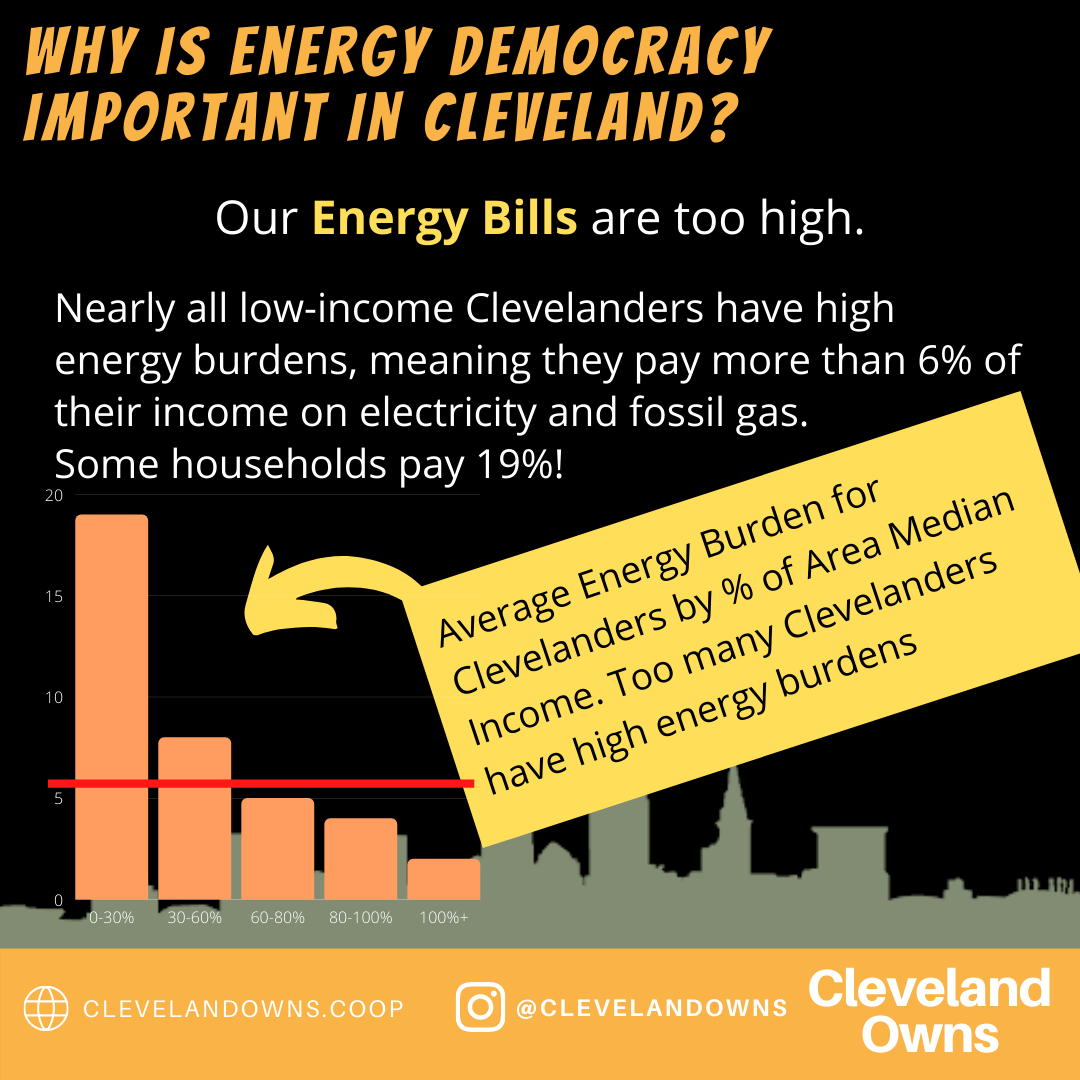 Another clear reason we need energy democracy in Cleveland is because today Clevelanders pay way too much for power. Nearly all low-income Clevelanders are energy-burdened, meaning they pay more than 6% of their income on electricity and fossil gas. Some households pay as much as 19%, according to data from the Department of Energy. Low-income Clevelanders today, as always, carry a disproportionate burden of our unjust energy system.

While some tools to reduce energy prices, such as solar net energy metering, are available today, First Energy and other monopoly utility corporations have every incentive to make sure other tools, such as community solar, stay out of our state. A movement for energy democracy is the best way to address the climate crisis, reduce energy burdens, and promote a just transition.