Join us in welcoming Cleveland Owns' newest team member, Holly Davenport! Holly joins us for one year as an organizer through Americorps VISTA. She'll focus on supporting a community-owned solar garden a group of innovative neighbors in Hough are championing.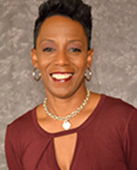 Holly recently completed a year of Americorps service with CEOWorks, a national non-profit organization focused on employment and sustainable skills for individuals reentering the community while on supervision.

After 27 years as a cosmetology manager, Holly decided to step into action by applying to the Neighborhood Leadership Development Program (NLDP). Holly credits NLDP for preparing her for effective leadership in the non-profit sector. While participating in NLDP, Holly was inspired to enroll and complete Edwin's Leadership and Development Institute, a non-profit culinary school that focuses on reducing recidivism while creating social enterprises. After completing the program, Holly accepted a position with Edwin's in fund development and community engagement, and then as General Manager of Edwin's Butcher Shop when it opened in 2018. In 2019 Holly created "Stirring the Pot," an intergenerational cooking program serving the Collinwood community. She also operates a scratch kitchen catering business, Heavenly Delicious Heart and Soul Cuisine.

When not working, Holly is very active in her church in Collinwood and with the Collinwood Cobras of the Cleveland Muny Football League, where she cooks for and supports the youth and their families. Holly Davenport is a Glenville High School graduate. Holly has one daughter, Sydni, who attends Morgan State University in Baltimore, MD. She is very excited about her upcoming year with Cleveland Owns as an Americorps VISTA member!